ANGELL-WEST 
 PROMOTING CARE AND EXCELLENCE IN VETERIANRY DERMATOLOGY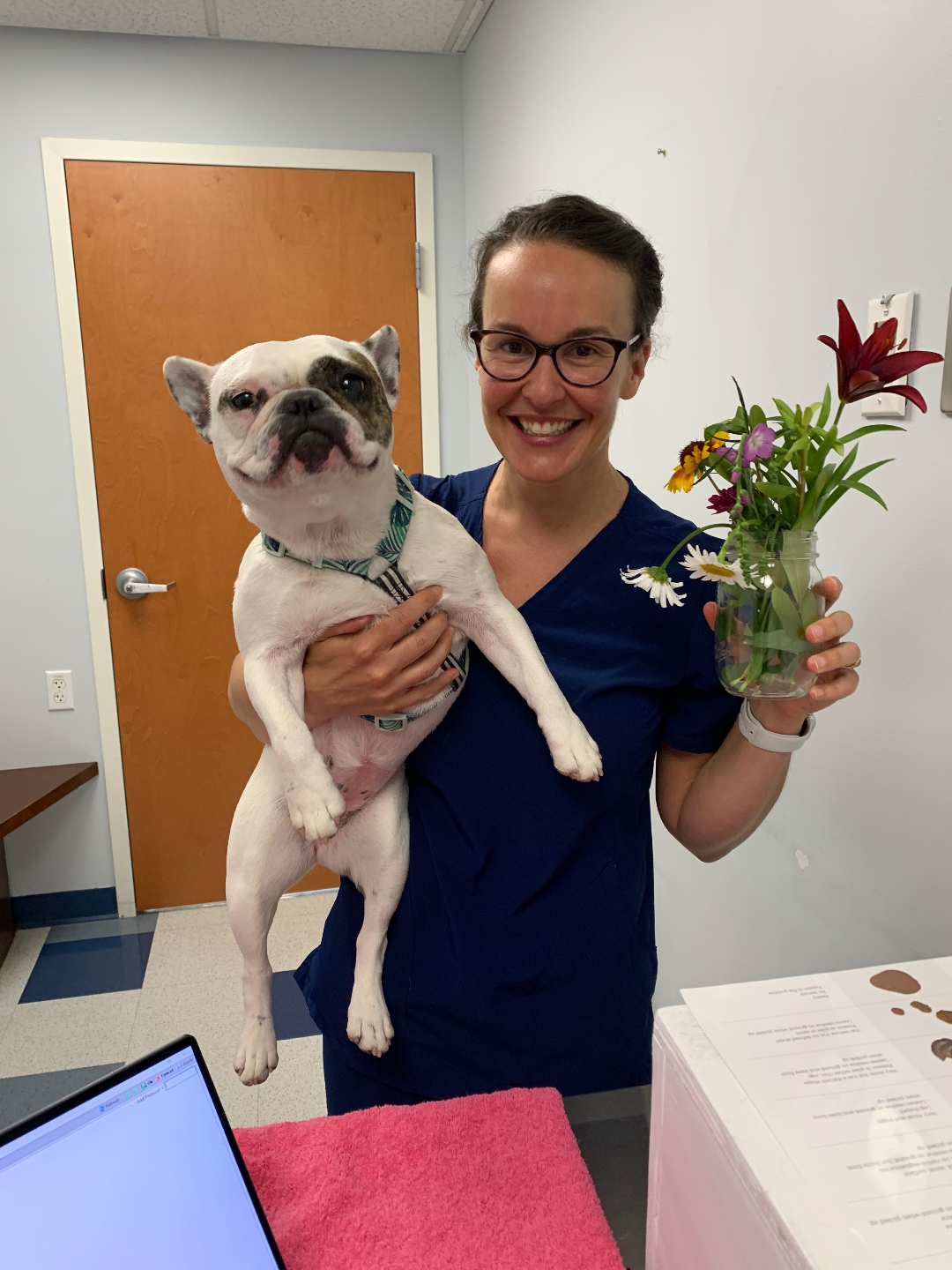 Are you looking for a Board-Certified Veterinary Dermatologist® for your pet?
Look no further! I am excited to work with you and get to know your pet's specific needs. As a Board-Certified Veterinary Dermatologist®, I have specific training and skills to ensure that your pet will have the right diagnosis and treatment plan - no matter the severity, problem, or barriers in our way. 

I am a creative problem-solver. I love to get to know all of the details that make you and your dog tick so I can be sure that our plan fits with your goals and lifestyle. Personalized and targeted care is a unique hallmark of my practice style. 
I love working with dogs, cats, and all the human animals that come along with them! My work is so enriching because I get to know your family, however you define it! 

Making an appointment with me is easy. Instructions are below and here (click this link). Be sure to ask specifically for Dr. Painter (that's me) at Angell-West in Waltham, MA! 
I am excited to meet you and your pet! 
Your Pet Deserves the Best Care
I am committed to providing all of my patients and clients with the best possible care, treatment, diagnostic work-up, and treatment plan that I possibly can. 
GET TO KNOW..
The MSPCA's Angell-West Dermatology Service
HERE ARE SOME FUN FACTS ABOUT OUR TEAM.
We offer a full-service veterinary dermatology program at our conveniently located satellite hospital in Waltham, MA. 

Our staff consists of:
Dr. Meagan Painter, Veterinarian, Board-Certified Veterinary Dermatologist® 
Bess Winters, Certified Veterinary Technician
Margaret Gardiner, Veterinary Assistant 
Calvin Bonna, Client Care Coordinator 
We all love what we do and can't wait to bring you into the fold that is the Angell-West Dermatology family! You will love working with us too! 
What kinds of problems do we help with? 

Dogs and cats can struggle with many different skin and ear diseases. 

Most commonly, though, we see allergic diseases that create tremendous discomfort, itch, inflammation, and infection for our best dog or cat friends. 

This can be frustrating for pet owners because there doesn't feel like an end in sight - or a good answer to why this is all happening. 

Luckily for you (and your pet!), we specialize in treating allergic diseases in dogs and cats. While we also see other skin and ear diseases, allergy is by far the most common problem that we treat. 
You will be in the best of hands when you make an appointment to see us. I will walk you through this whole problem, get your pet on the right track, and manage the problem as much or as little as necessary moving forward. 
Did you know that every single one of my patients is a special snowflake? Unique in their own little way. 
It is essential for me to make sure that each and every one of my patients receives a plan that is unique to them. This means that I spend a great deal of time listening to where you have been, what has worked, what hasn't worked, and what your goals are moving forward. 

I meet you and your pet right where you are, and provide the highest quality, personalized care that I possibly can. I get excited just thinking about it! 
"Dr. Painter and her team were great with our cat (who can be feisty!). They genuinely cared about me and my cat, troubleshooting many options before we found the right one. I really appreciate their high level of care, expertise, and compassion." 
Laura Powers
"Dr. Painter always takes the time to get to know Lily's history and asks all the right questions. I feel like we always leave with hope and the right plan to make my dog's life comfortable and stress-free. It doesn't get better than this. 10/10 recommend."



Casey Dombecki
WE ARE EXCITED TO MEET YOU!
We are here for you and ready to accept new patients. While wait times for new patients can be 1-2 months, we do not want this to dissuade you. Finding the best, most qualified veterinarian to help your pet can take time.

We are worth the wait at Angell-West!
If you have any questions about your pet's referral, talk with your primary care veterinarian. They can always reach out to me to discuss your pet's case sooner if you feel there is a more urgent need for a visit! We do our best to help everyone, and never want patients to suffer while they wait for an appointment! 
How do I book an appointment?
Where does Dr. Painter see her appointments?
Is Angell-West the same as Angell in Boston?
Do you perform allergen testing?
Does my pet need to come off their medicine prior to seeing you?